CREATIVE COMPOSITION (2ND EDITION)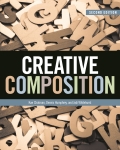 ISBN-13: 978-1-945628-22-1
# pages: 160
Copyright Year: 2017
Suggested Retail: $51.95
Description
Preface
A variety of influences have prompted the writing of this text for freshman composition courses. First is teaching experience, an estimated forty years among the three authors. We have spent most of our academic careers in the kinds of institutions and with the sorts of students who are most numerous in American higher education. We think that those who sign on to teach in two and four year colleges, where diversity is not only ethnic but socioeconomic, religious and academic, should stop complaining about feeling adrift in a sea of working class students. The United States is a rough and tumble democratic experiment, not a salon for aristocrats, and our schools look like America. We educators have exactly what we once said we wanted.
In this text, we have sought to lean on the strengths of a rising generation, their visual and technological literacy, sociability, and desire to be recognized as future professionals. They want to know how to write for their future workplace more than for graduate programs or literary publications. They want feedback for their writing not only from professors but also from peers. They are the perfect clientele for on-site and online writing workshops. They want respect and recognition.
We hope to meet our students' needs, but we also want to nudge them past their "like" buttons. In devising lessons to spur writing skills development for adult learners, we have followed the lead of Anderson and Krathwohl 's revision of Bloom's Taxonomy, where the three highest levels of cognitive development are analysis, evaluation and creativity. These three levels correspond roughly to the three sections of our textbook. We listened to Ron Ritchhart and David Perkins' advice in Making Thinking Visible to interpret Bloom's hierarchy of cognitive domains more flexibly. Creativity can be fostered at every stage of the learning process and not just at its culmination. We hope to have made a contribution to the literature on teaching writing.
Table of Contents
PART ONE: Invention
The Writing Workshop 2
Mother of Invention 2
Father of Invention 3
Aristotle's Rhetorical Triangle 3
Exercises to Stir the Imagination 4
After Invention: Swapping Papers 5
Invention in Six Words (or Less) 6
Giving Feedback 7
"Eat to Live" 7
Receiving Feedback 7
What Is Good About the Draft? 8
How Could the Draft Be Better? 8
FAQ: Should I Write the Way I Talk? 9
Slang, Profanity, and Stereotypes 9
Revising for Correctness and Credibility 10
What Is a Sentence? 12
Marking Sentence Boundaries 12
What Is Terminal Punctuation? 13
Punctuating Sentences 13
I Declare: Simple Sentences 14
Commas in Declarative Sentences 14
How Things Stand: Description 16
Finding Words for Feelings 16
Credibility Is in the Details 17
Who? What? When? Where? 17
Vantage Point 18
Angle and Depth of Vision 18
Get Away from Earth Awhile 19
The Dominant Impression 20
Draw a Map and Give Directions 21
Organize Details 21
Left Behind 22
Parking Lot Sleuth 24
Tell Me No Lies: Narrative Writing 26
Use Conflict to Develop the Story 27
How to Signal Conflict 27
Point of View (PoV) 28
Once Upon a Time 29
Whose Story Is This? 29
Storyboards and Narrative Drafts 30
Writing Face and Body Language 31
Reading and Writing Emotions 31
Dialogue and Credibility 32
Such as it Is 33
Dialogue and Quotation Marks 33
Start and End with the Best Material 34
Editing a Narrative Draft 34
Verbs in Time: Action! 36
Verb Tenses: A Writer's Guide 37
The Perfect Tenses 37
The Progressive Tenses 38
The Perfect Progressive Tenses 38
Narrative Projects 40
Model Narrative: "Sitting Ducks" 40
PART TWO: Analysis
Analysis and Critical Thinking. 44
Analysis in the Information Age 44
Data and Dabs 45
What Is Analysis? 45
Who Likes Pizza? 46
Types of Analysis 47
Point of View in Analysis Writing 47
Linking Ethos and Pathos 47
Process Analysis 48
The How-They Process Analysis 48
The How-To Process Analysis 49
Upside-Down Analysis 49
Transition Link Steps in a Process 50
Keep the Conversation Going 51
Rhetorical Elements in Process Writing 52
Model Essay: Process Analysis 52
Logos, Pathos and Ethos in Process 53
Comparative Analysis 54
Alike Yet Different 54
Points of Comparison 55
Boolean Techniques in Web Searches 55
Smarter Searches Using And, Or, Not 55
Comparative Thesis and Introduction 56
Organizing with the Block Method 57
Organizing Point-by-Point 57
The Pro/Con or Cost/Benefit Analysis 58
Add Up the Plusses and Minuses 58
Comparative Analysis in Action 59
Other Comparison Projects 59
Causal Analysis 60
Causation and Correlation 60
Patterns in Causal Analysis 61
Consumers and Causal Analysis 63
Complex Causal Analysis Scenarios 64
Causal Analysis Project 65
Data Collection and Interpretation 65
Writing a Causal Analysis 66
Organizing a Causal Analysis 66
Model Essay: Causal Analysis 67
Rhetorical Analysis 68
Rhetorical Elements: Pathos 68
Rhetorical Elements: Ethos 69
Rhetorical Elements: Logos 69
Rhetoric and Timing 70
Occasion and Context 70
Stereotypes in Media Images 71
What Is a PSA? 72
Rhetorical Analysis in Action 72
Respecting Copyrighted Material 73
Works Cited or References 73
What Is a Persuasive PSA? 74
Analyzing Visual Arguments 74
Project: Famous Speeches 77
PART THREE: Argument
Anatomy of Argument 80
What Do We Argue About? 80
Argument and Persuasion 81
Balancing Reason and Passion 81
Planning to Argue 82
Preliminary Steps: Topic Selection 82
Topics to Avoid 83
From Topics to Issues 83
Framing the Issue for Readers 84
Framing the Issue for Decision Makers 84
From Issue to Thesis 85
Fund My College Thesis 85
Starting an Argument 86
Introduce the Reader to the Thesis 86
Draft Introduction: Cyberbullying 87
Draft Introduction: Legalize Marijuana 87
Terms of the Argument 88
History of the Issue 88
Reliable Sources 89
Where to Look for It 89
Evaluating Reference Works 90
Ask a Reference Librarian 90
Just the Facts 91
In our opinion 91
The Long and Short of Summary 92
Summarizing and Note Taking. 92
Four-Step Guide to Summary Writing 93
What Did President Kennedy Say? 93
Step one: Research Pro and Con 94
Step Two: Data Sort 95
Step Three: Rhetorical Analysis 95
Step Four: Root Cause Analysis 96
Step Five: Stop and Think 96
Step Six: Propose a Solution 97
Step Seven: Write a Thesis 97
Body of Evidence 102
Selecting and Evaluating Sources 102
Data and Inductive Reasoning 102
Inductive Reasoning in Argument 103
Look Before Leaping to Conclusions 103
Patterns in Induction: Analogies 104
Recognizing Analogies 104
Strong and Weak Analogies 105
Analogies in Public Health Debates 105
Inductive Patterns: Cause and Effect 106
Recognizing Causal Claims 106
Inductive Patterns: Generalization 107
Troubleshooting Generalizations 107
Evaluating Causal Reasoning 108
Hasty Generalizations and Bias 108
Informal Fallacies 109
Model Causal Analysis 111
From Causes to Conclusions 112
The Calming Power of Deduction 112
Basic Deductive Argument Forms 113
Not-A, Not-B, Not-C, Therefore D 113
Conditional Arguments: If, Then 114
Formal Fallacies 115
Watch out for Not's in Logic 115
Deduction and Decision Steps 116
Deduction Makes the Case 116
Model Deductive Argument 118
Objections: What's Not to Love? 119
Pro and Con All Over 119
Model Conclusion: "Use Your Head" 120
About the Author(s): Chatman/Humphrey/Whitehurst
Kae Chatman is an Associate Professor of English and Philosophy at Arkansas State University – Beebe. She earned an MFA in Creative Writing at Wichita State University and an M.A. and Ph.D. in Philosophy at the University of Kansas. She had previously served as a military intelligence analyst and officer in the U.S. Army. She edited the catalog for the U.S. Army Intelligence Center and School at Ft. Devens, MA. Later, she served as a public affairs officer for the Army National Guard, a public relations writer for United Way, a freelance journalist, a medical textbook editor, and a technical writer for the Veterans Administration. Dr. Chatman is on the board of the National Organization for Women and devotes her spare time to advocacy for feminist causes and online writing projects.
Dennis Humphrey is Chair of the English and Fine Arts Division at Arkansas State University—Beebe. He holds a PhD in English with Creative Writing emphasis from the University of Louisiana at Lafayette, and he holds a Masters in English from the University of Central Arkansas and a Masters in Strategic Studies from the US Army War College. Dr. Humphrey serves as a Colonel in the Arkansas Army National Guard and has served two tours in Iraq. His fiction has appeared in such journals as Story South, Clapboard House, and Toad Suck Review. He lives in Beebe, Arkansas, with his wife, Margo and their five children: Hannah, Mary Claire, Emily, Jared, and James.
Jodi Whitehurst works as a composition instructor at the Arkansas State University—Beebe. She lives in central Arkansas with her husband, Shane, and their children, O'Neal and Olivia. She holds an Ed.D. in higher education with an English composition faculty leadership concentration, an M.A. in professional and technical writing, and a B.S. in education. Jodi is also a Little Rock Writing Project teacher consultant. Her areas of research include digital rhetoric and writing processes of developing writers.
Back To Top