HEALTH PROMOTION: LIFESTYLE CHOICES FOR WELLNESS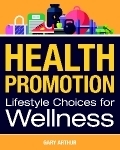 ISBN-13: 978-1-935987-76-5
# pages: 329
Copyright Year: 2016
Suggested Retail: $62.95
Description
Seeking a better quality of life, good health, and well-being are things all of us should strive for in this modern age that presents challenges to the overall state of individual health. The condition of physical well-being must contend with an array of influences while implementing strategies and solutions to those areas that threaten good health. A definition of the many dimensions of health and their interactive nature is a starting point to assist in the attainment of good personal health. While promoting self-care with checklists and personal assessments, this manual presents challenges and, based on research, offers solutions for achieving and maintaining individual good health.
Table of Contents
UNIT 1: WELLNESS: AWARENESS, ENHANCEMENT, AND MANAGEMENT
CHAPTER 1 PERSONAL HEALTH
CHAPTER 2 STRESS
UNIT 2: PSYCHOSOCIAL CONDITIONS
CHAPTER 3 MENTAL HEALTH
CHAPTER 4 EMOTIONAL HEALTH
UNIT 3: HUMAN CONNECTIONS
CHAPTER 5 SOCIAL HEALTH
CHAPTER 6 RELATIONSHIPS
UNIT 4: REST, HEALTH, AND SUCCESSFUL AGING
CHAPTER 7 SLEEP
CHAPTER 8 LONGEVITY
UNIT 5: SUBSTANCE CONTROL
CHAPTER 9 TOBACCO AND ALCOHOL
CHAPTER 10 DRUGS
UNIT 6: SAFETY AND PROMOTION
CHAPTER 11 VIOLENCE AND INJURY
CHAPTER 12 FITNESS AND NUTRITION
UNIT 7: ILLNESS PREVENTION
CHAPTER 13 DISEASE
CHAPTER 14 CANCER
UNIT 8: REPRODUCTIVE ANATOMY AND PHYSIOLOGY/FAMILY PLANNING
CHAPTER 15 SEXUAL HEALTH
CHAPTER 16 REPRODUCTIVE CHOICES
UNIT 9: ADJUSTMENT AND MANAGEMENT OF LIVING CONDITIONS: CHOOSING CARE
CHAPTER 17 ENVIRONMENTAL HEALTH
CHAPTER 18 HEALTH CARE/COMPLEMENTARY ALTERNATIVE MEDICINE
About the Author(s): Gary Arthur
Gary Arthur (BA, Carroll College––Helena, MT, and MA, California State Dominguez Hills) has been a health/fitness instructor and coach at Grays Harbor College in Aberdeen, WA, for the last 25 years. A recipient of the GHC Faculty Excellence Award (2012 and 2014), his service has included Social Science Division Chair, Interim Athletic Director, Athletic Commissioner delegate and board member to the Northwest Community College Athletic Association, and active member of SHAPE (Society of Health and Physical Education) America as well as adjunct instruction with City University and The Evergreen State College. Besides fitness and health instruction, current duties also involve coordinating the Grays Harbor College Reservation-based online degree and onsite coordinator for the Native Cases Institute, an organization that promotes the use of case studies in the classroom through an affiliation with The Evergreen State College. Prior college experience includes 15 years teaching and coaching at the secondary level of education in Montana and Alaska.
Back To Top